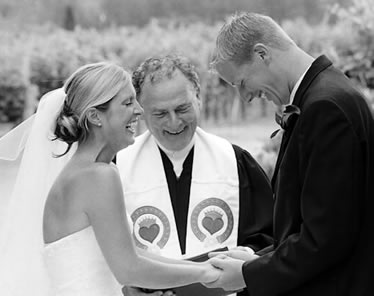 The traditional Weekend Wedding Ceremony includes the full professional services of Reverend Peadar Dalton and Your Ceremony staff. Included in the $1600 package are personal meetings with Rev. Dalton that involve guidance in the creation of your ceremony, and the ongoing support from the team of Your Ceremony Matters. We always reach out and introduce ourselves so you will have a sense of who we are, and what we will provide. Below is a sampling of what our commitment is: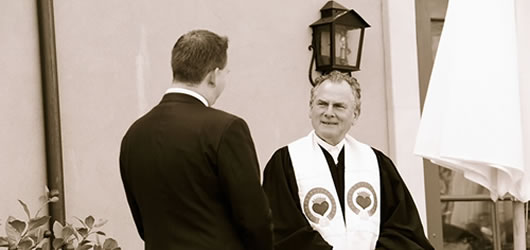 First Meeting
Let's get to know each other.
By telephone, Skype/video conference calls, face-time or at our Sonoma office (if you live locally – or visiting and convenient)
It is very important to develop a more personal connection and trust, with the person who will stand in front of you and your guests for your wedding ceremony.
Share information about yourselves, family, guests, and spiritual or favorite traditions.
Discuss your wishes and dreams, not just for wedding ceremony, but for your relationship and wedding day.
Offer useful therapeutic counsel on key components that contribute to a satisfying intimate marriage.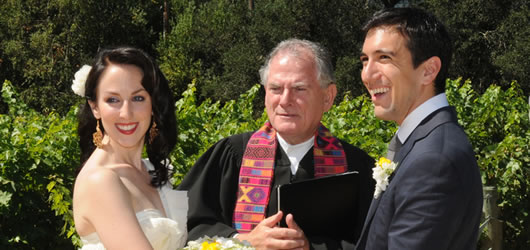 Developing the Ceremony
Begin outline of ceremony with ceremony template provided by our office and other electronic informational forms.
On-going communication and drafts of the ceremony with office staff.
Discussions in person or by email, regarding specifics of the ceremony and involvement of family, children, timing, music, readings, vows, religious and family traditions, etc.
Our office provides follow-up by email, suggested reference books, readings, sample vows and symbolic rituals to help with creating your ceremony.
Review wedding program (if requested), vows, and readings for your ceremony.
Provide all the details for obtaining your marriage license.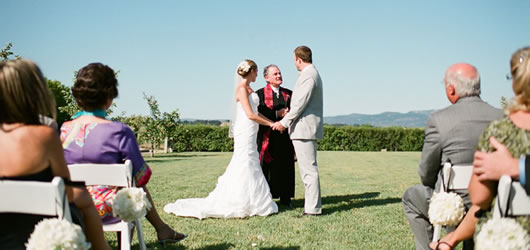 Final Wedding Meeting
Ceremony Outline Completed and returned to YCM office.
Final meeting in our office or by telephone, skype or face-time.
Follow-up calls as needed during wedding week to couple, wedding coordinator and any vendors with questions.
Rev. Dalton's professional time to finalize ceremony outline including familiarization of family names, family dynamics and personalized vows and readings.
Office Staff to complete edits and confirmation to couple.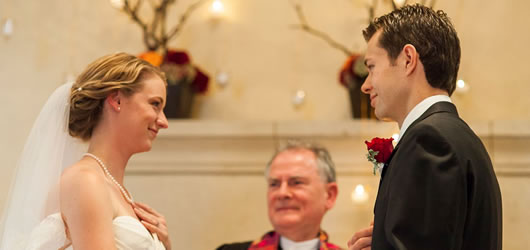 Wedding Day Commitment
Includes travel time to wedding site. Note: depending on location we reserve the right to augment our fee to offset gasoline expense, tolls and parking.
Reverend Dalton arrives at least one hour before start of ceremony.
If requested can offer a moment of reflection for bridal party to calm any nervousness before the beginning of the ceremony.
Officiate your wedding ceremony, as planned together, in a professional, personal manner.
Obtain witness signatures on marriage license; have licensed signed carefully and properly, file and mail original marriage license to county for filing.
Availability to engage with guests directly following ceremony. Family and friends have told us they appreciate being able to share their feelings with Rev. Dalton about the ceremony. On occasion can attend the reception.
YCM Office will send confirmation of license filing and follow-up letter.
Long after the wedding day, we remain in touch with you and offer our continued interest in supporting your happy married life.