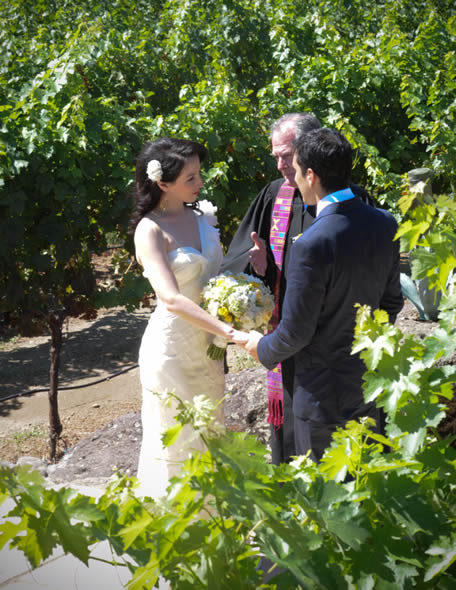 The Intimate Wedding frequently referred to as an "elopement." Many couples take advantage of the Wine Country's beauty as a romantic setting for their nuptials and honeymoon. The intimate wedding can be just the Bride and Groom or close friends, generally less than 10 people in total. 

The Intimate ceremony and exchange of vows might be just themselves, Rev. Dalton and a photographer. Many couples have a gathering afterwards, back home with family and friends. Often these weddings are held in the morning hours of peak wedding season, although we are open and flexible to your special time and needs.
We appreciate the trust Brides and Grooms place in choosing to work with us from afar, many times not meeting until the wedding day. Reverend Dalton will deliver your intimate and personal ceremony. Please read our testimonials on intimate weddings.
Developing and Facilitating the Ceremony
Rev. Dalton will make an introductory contact by telephone, or Face time.
Our office will provide a very simple and brief Intimate Ceremony outline, that includes vows, words for exchange of rings, and a few other inspiring questions for you to consider. You are also welcome to create your own vows.
Our office will provide information for obtaining your marriage license.
Includes Rev Dalton's preparation time, travel time and facilitating the ceremony.
Rev Dalton, will officiate your ceremony, in a professional and personal manner.
Obtain signatures on marriage license. File the license and confirm.
Reverend Dalton is often part of a preferred vendor package offered by many Wine Country wedding venues and wineries, such as Auberge du Soleil, Calistoga Ranch, St Francis Winery, Carneros Inn, Harvest Inn to name a few. We would be delighted to recommend additional Wine Country wedding coordinators, venues and wineries.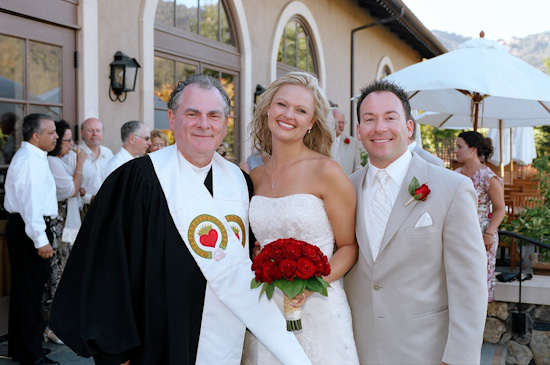 Our ceremony was very small intimate but it still had the elements that were important to us: our family, our close friends and a garden wedding. Everything turned out the way it was supposed to be. You did such a wonderful job in performing our ceremony. Prior to reading the traditional vows, we also prepared our own vows and vows to read to each other. There wasn't a dry eye in the place. It was truly one of the happiest moments of our lives."