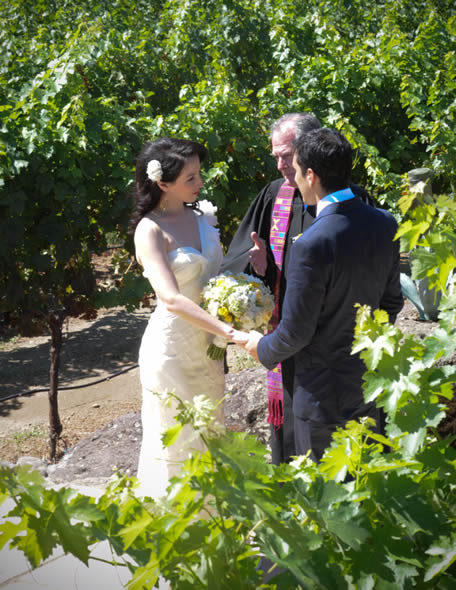 Small Intimate or Mini Wedding Ceremony
Wine Country has so many picturesque, romantic settings for small, simply celebrated intimate wedding ceremonies. Regularly attending are the Bride and Groom by themselves, sometimes accompanied by 8 to 10 family and friends. Couples can readily, if they wish, Zoom in family and friends from throughout the country and world–they will feel like they are physically present with the inclusive words Rev. Dalton will use in his opening welcome.
These beautiful ceremonies, starting at $650, more often than not take place on a weekday. Some of the well-known wedding venues will try to be flexible, as will we here at YCM, for couples wishing to have your wedding ceremony on a Friday, Saturday, or Sunday, which are normally reserved for a larger guest attendance and wedding parties, with a a longer more involved ceremony.
Our experience for the past 15 years with officiating small intimate wedding ceremonies with couples whom Rev. Dalton has not met in person until wedding day, has established beyond doubt that it does not interfere or limit the specialness the wedding ceremony experience. Rev. Dalton is passionate in his belief of the uniqueness of each couple's love and intimate connection. This intimacy can easily be reflected in a personalized, beautiful 15-minute wedding ceremony.
We appreciate your trust as an excited bride and groom, about to be husband and wife, to reach out to us to officiate your sacred ceremony.
Please read our testimonials on intimate weddings.
Developing and Facilitating the Ceremony
Rev. Dalton will make an introductory contact by telephone, having received your contact information from your planner
Our office will provide and send a very simple and brief Intimate Ceremony outline, that includes vows, words for exchange of rings, and a few other inspiring questions for you to consider. You are also welcome to create your own vows.
Once you have made your choices and emailed them back to Rev. Dalton, we will set up a brief video or telephone conference to greet and finalize.
Our office will provide information for obtaining your marriage license.
Includes Rev. Dalton's preparation time, travel time and facilitating the ceremony.
Rev. Dalton will officiate your ceremony in a professional and personal manner, obtain signatures on the marriage license, file the license and confirm.
Reverend Dalton is often part of a preferred vendor package offered by many Wine Country wedding venues and wineries, such as Auberge du Soleil, Calistoga Ranch, Carneros Inn, Harvest Inn to name a few. We would be delighted to recommend additional Wine Country wedding coordinators, venues and wineries.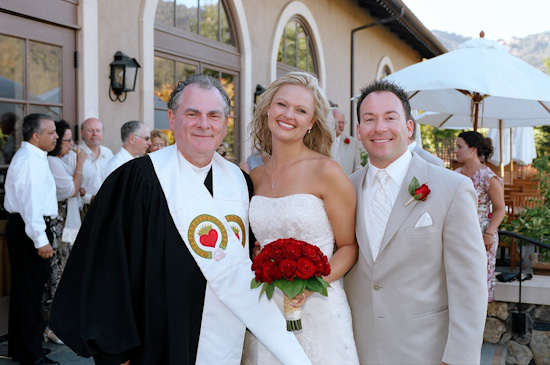 Our ceremony was very small intimate but it still had the elements that were important to us: our family, our close friends and a garden wedding. Everything turned out the way it was supposed to be. You did such a wonderful job in performing our ceremony. Prior to reading the traditional vows, we also prepared our own vows and vows to read to each other. There wasn't a dry eye in the place. It was truly one of the happiest moments of our lives."